Re-Garden~Wealth Life of Garden Kitchen
This is an introduction to the re-garden of Mr. H's residence in Hachioji City.
At that time, we renovated the garden because the client wanted to enjoy barbecue in the garden.
The previous garden was surrounded by trees and undergrowth, which made it difficult to manage, so we decided to renovate it to prevent weeds as well.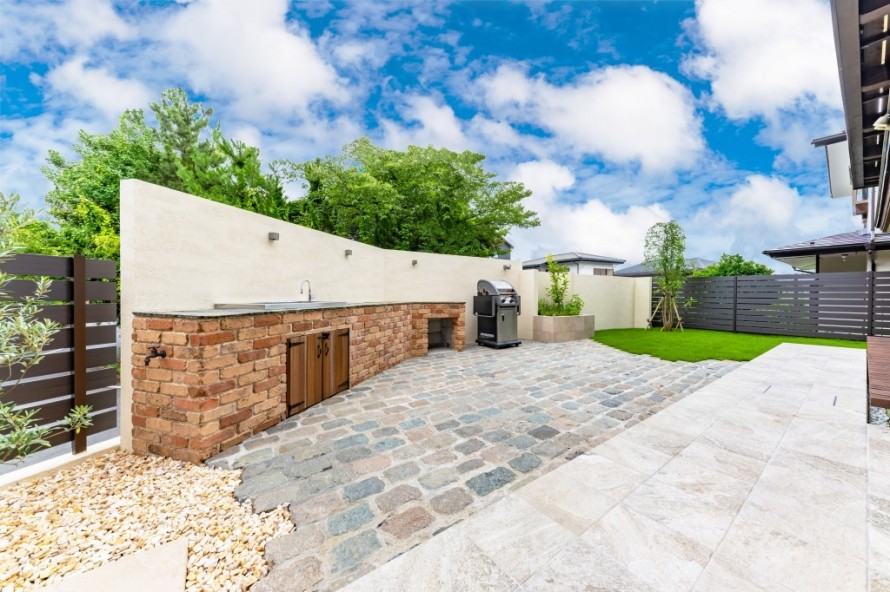 Rustic modern garden with simple white walls and tile decking combined with brick, wood, and stone.
This space was densely covered with trees before the construction.
Along the white wall, we built a garden kitchen with a functioning sink, storage, homemade stove, and faucet.
In the back, there is also a space for a gas grill, where chairs and tables can be arranged for barbecues.
The site is located on a hill and the wall is above the road, the fence and wall do not need to be high to prevent line of sight.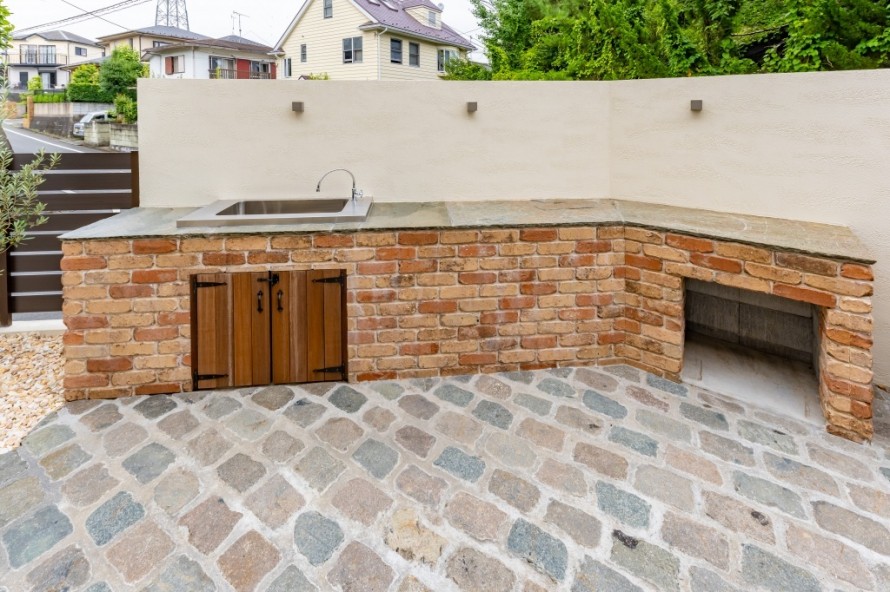 This is a main part of the garden kitchen.
The sink is large enough to hold a bucket and is very easy to use. There is also a large space at the top where you can put your food and cutting board.
The sides are made of brick, the top is made of natural stone, and the storage door is made of natural wood.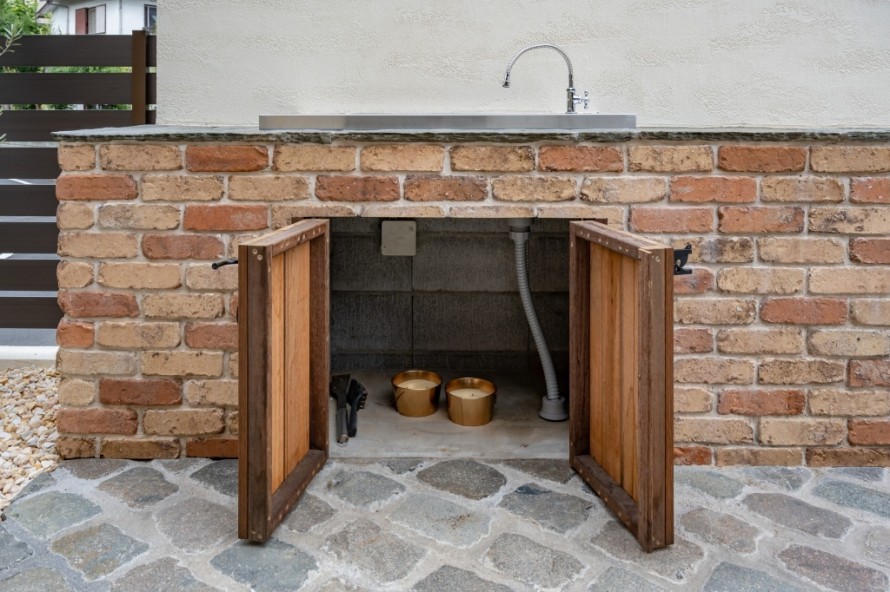 What it looks like when you open the inside of the storage.
You can use a basket for storage.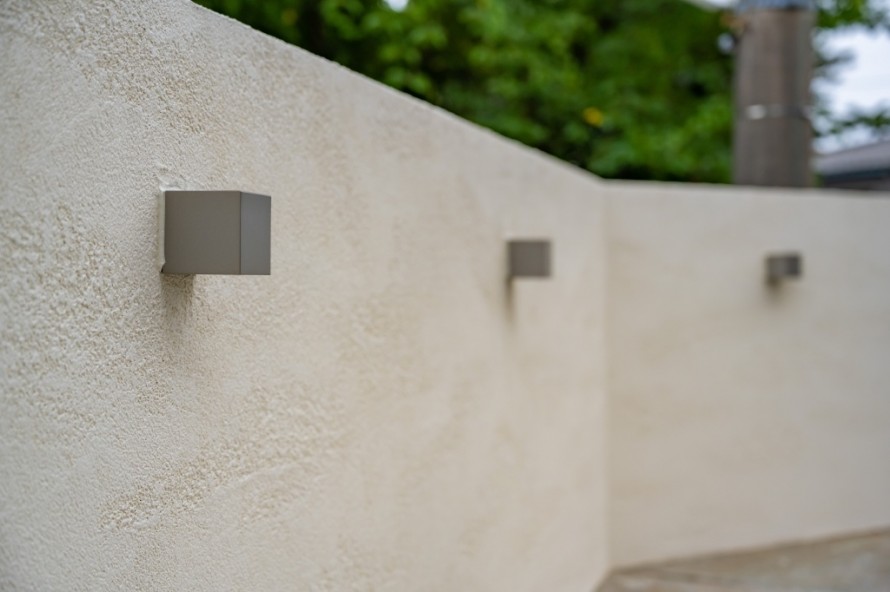 We installed square lights on the walls.
Rather than using pretty light fixtures, we used simple square fixtures.
This gives the room a rustic modern look.
Porch was left as it was before. It is quaint and has a nice flavor.
Instead of paving the entire ground, we covered some of it with new grass.
The terraced border between the stones and the grass is lovely.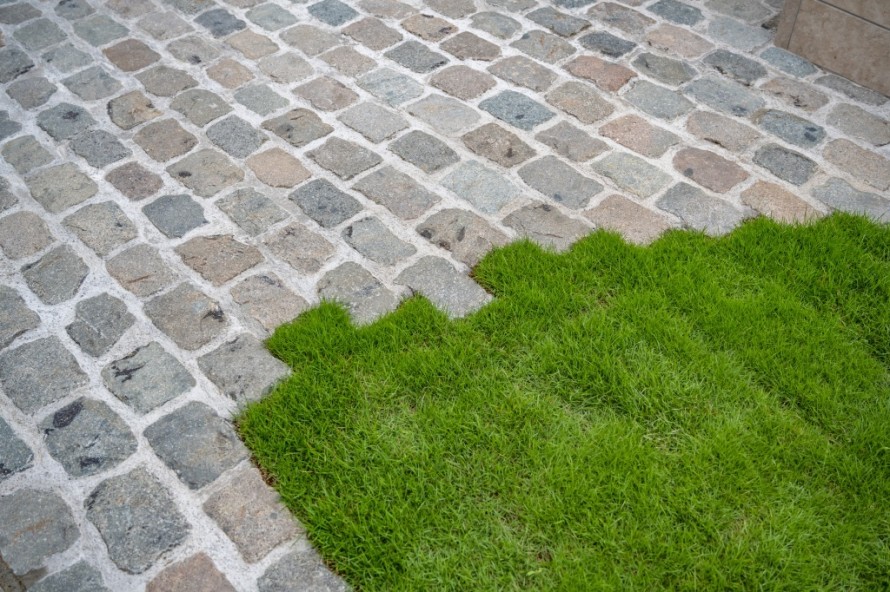 Boundary between Stone tiles and Grass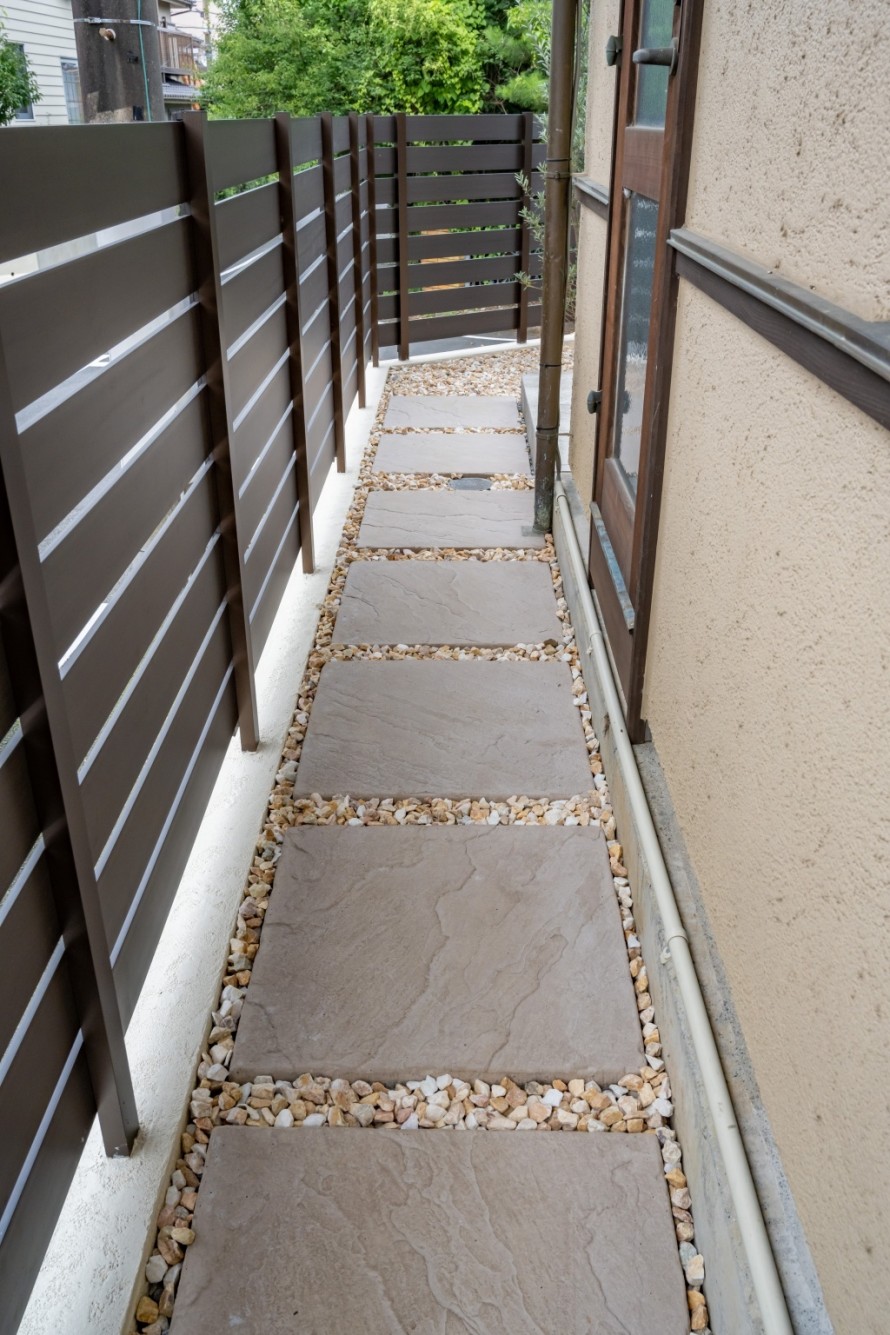 The area around the building is covered with decorative gravel and lined with stone-like slabs.
The blindfold fence is made of resin.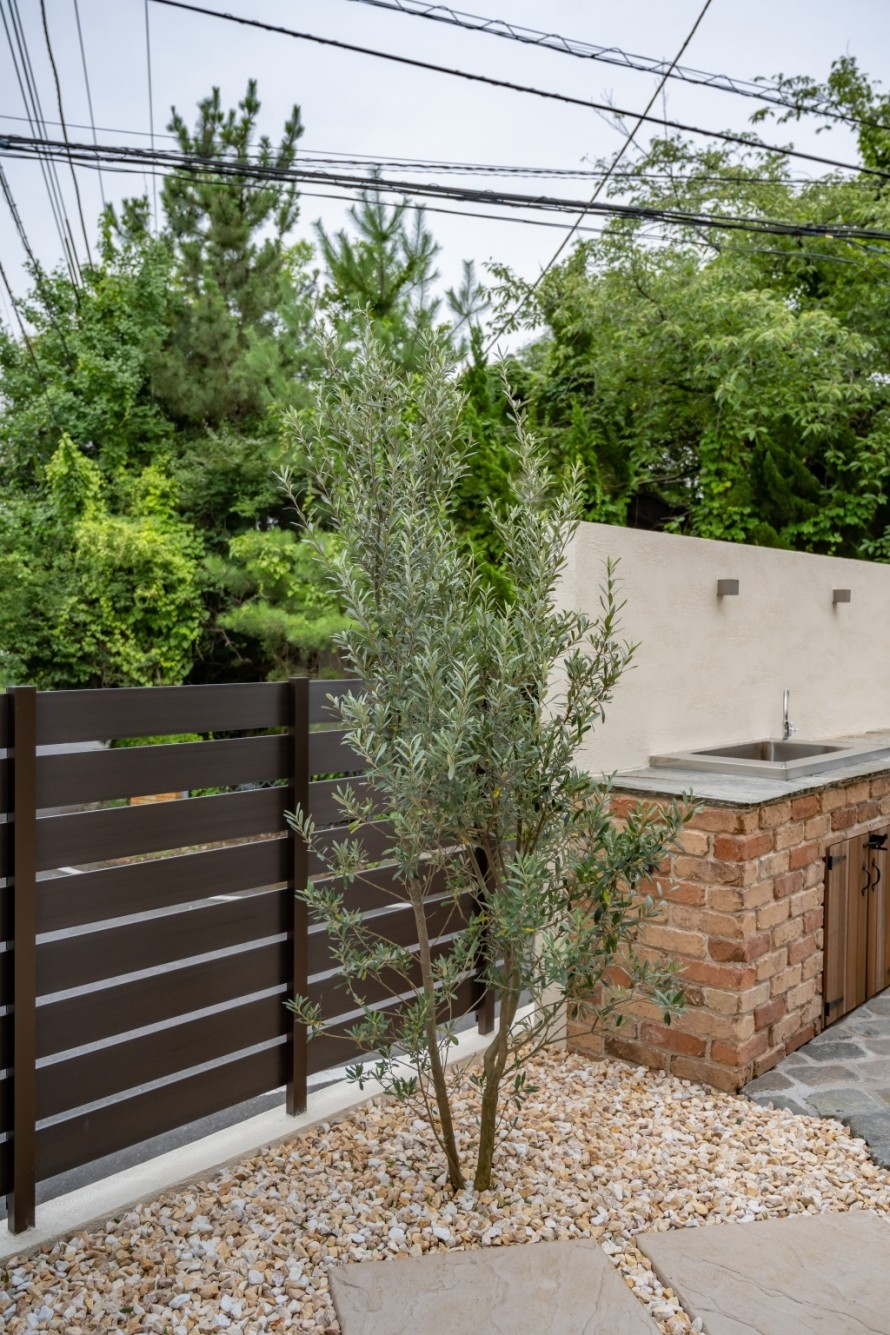 Olive tree planted in the ground.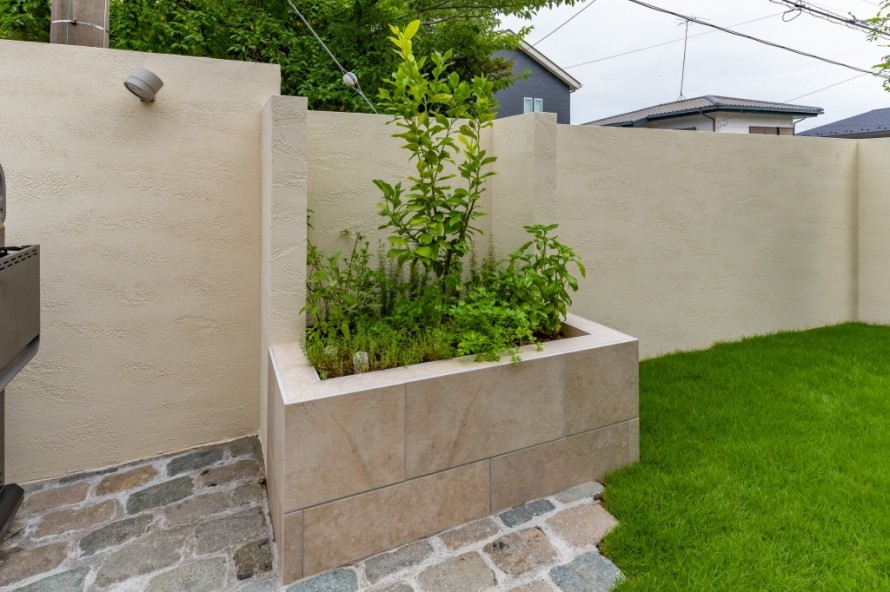 The planting space is set up as one of the showcase areas.
It's covered
with decorative gravel, concrete slabs, natural stone, and grass.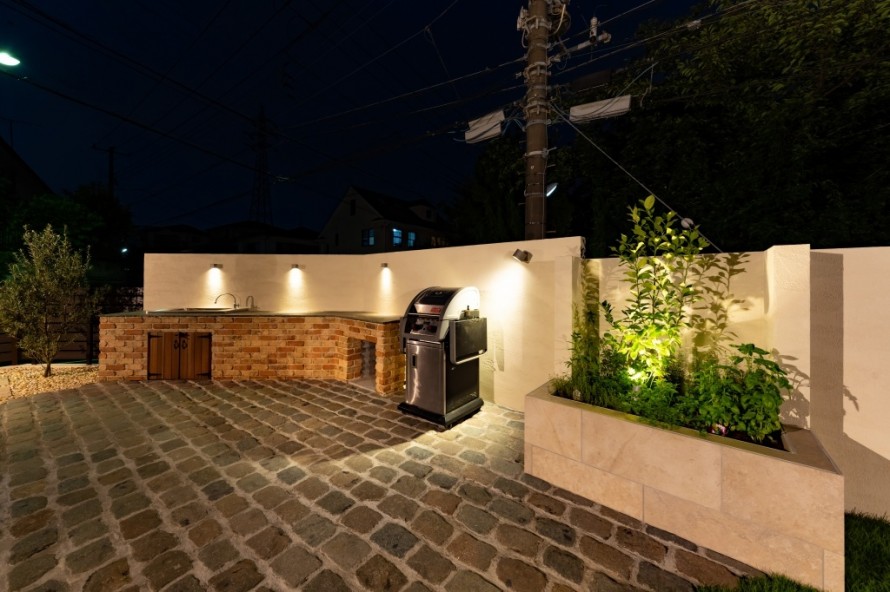 The lighting is mainly for the garden kitchen so that barbecues can be enjoyed at night.

Rising planting strip is also brightly illuminated.
This was a short visual of the
construction of a house with a garden kitchen.
If you would like to have a barbecue in your garden, please feel free to contact us!